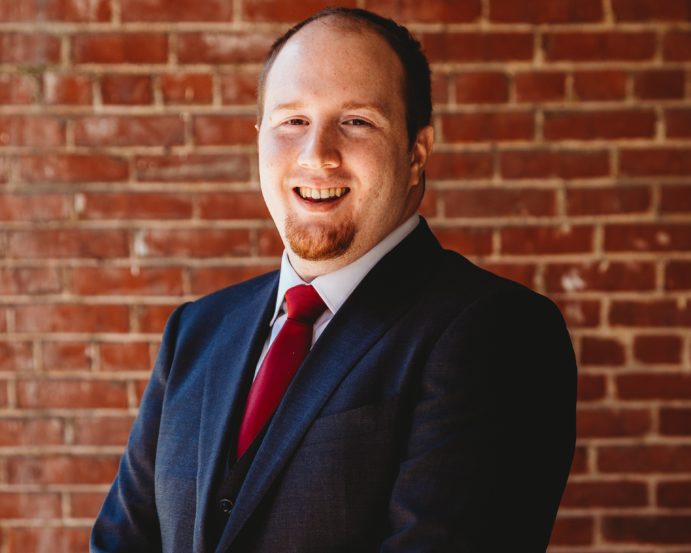 Bethel University, B.A., 2016
Marshall–Wythe School of Law at the College of William & Mary, J.D., 2019
Featured Experience:
Represented the founders of a multi-million dollar business in the sale of their business to a public corporation, getting millions more upfront than the asking price.
Represented the seller in a multi-million dollar commercial real estate sale.
Drafted consulting and service agreements to protect a national technology consulting firm.
Drafted partnership agreement for a now prospering start-up.
Represents a publicly traded company in state administrative proceedings.
Obtained a favorable settlement for a commercial landlord in lawsuit against a national restaurant chain for breach of lease.
Obtained a favorable settlement for a local business in a federal copyright lawsuit.
Represents an international manufacturer in domestic trademark registrations.
Won a bench trial on behalf of a rape victim against the State of Tennessee for negligent employment practices in the care of a prison inmate.
Won a jury trial on behalf of an injured person against a national retail chain.
Your lawyer should save you money or make you money. Sam helps clients who are selling (or thinking about selling) their business or commercial property get the most value out of their assets and prevent litigation. Sam will efficiently guide you through every stage of the acquisition process including offers, letters of intent, due diligence, drafting purchase and sale documents, closing, and earn-outs. Sam works with clients hand-in-glove to minimize disruption, maximize value, and protect their hard-earned value. Sam offers both hourly and flat fee options with no billing surprises.
Sam also provides value to businesses by preventing legal issues before they become expensive problems. Sam advises clients in a variety of industries, including construction, IT, consulting, manufacturing, and more in enforcing, drafting, and negotiating their contracts and managing agreements to (1) ensure performance and maximize results and (2) prevent costly litigation. When litigation does arise, Sam has experience obtaining positive and efficient outcomes for publicly traded and small businesses, as well as individuals.
Sam graduated William and Mary Law School, cum laude, (2019) where he was a member of the Center for Legal and Court Technology. Sam has always had a passion for using technology in his practice to optimize results for clients. Sam graduated at the top of his class from Bethel University with a focus in history and computer science. When not at work, Sam enjoys being an assistant coach for the Middle Tennessee University Ice Hockey Team.