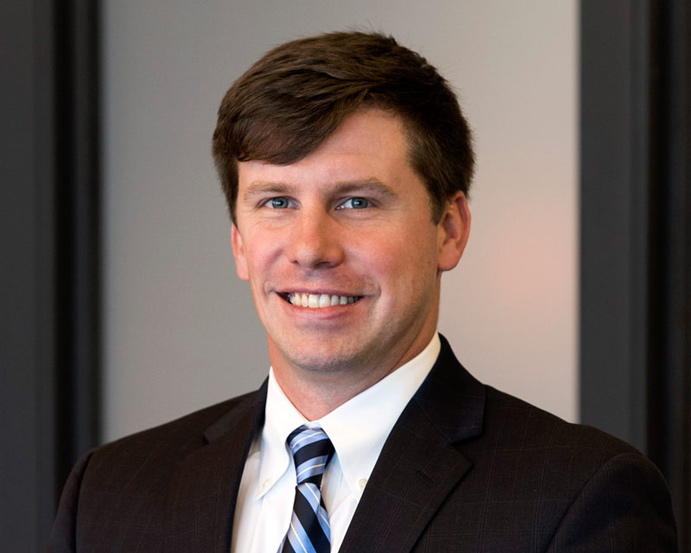 315 Deaderick Street, Suite 1700
Nashville, TN 37238
Main Office Number: (615) 244-2770
Main Office Fax: (615) 244-2778
Assistant: Lindsay Wells
lwells@tewlawfirm.com
University of Tennessee, B.S. Finance, 2006
Nashville School of Law, J.D. 2011
Chris is a highly successful and aggressive litigator. Chris utilizes his training and diverse background to successfully try cases in the Davidson County Chancery and Circuit Courts, as well as the Federal Court in the Middle District of Tennessee.  Chris is a skilled, experienced, and professional litigator who has earned a reputation for his innate ability in the courtroom.  His common sense, honesty, and expertise have allowed him to consistently achieve the best possible results for his clients.
Chris' practice is based on a thorough understanding of business, real estate, and contract law.  He consistently works to maximize results for his clients whether advising on a partnership dispute, suit to quiet title, business divorce, or a real estate deal gone bad.   He has extensive practical experience in complex business, real estate and property matters. He is adept in the representation of both buyers and sellers engaged in disputes regarding the purchase or sale of property, property development, tax sales, foreclosures, and resolving issues with government agencies.
Chris' clients are successful businesses and individuals who work as investors, developers, contractors and entrepreneurs.  They understand the importance of choosing the right lawyer.  Chris' clients recognize the value of working with someone who has experience with involved real estate, business, and contract matters, and the ability to efficiently navigate the complexities of the judicial system.
Chris also enjoys working with clients in matters involving petitions for conservatorships and will contests in the Davidson County Probate Court.  Chris has represented many clients faced with deciding whether a loved on is in need of a conservator.  Chris understands that aging and mental or physical illnesses do not discriminate against anyone, and, like all of his cases, handles both of these difficult probate matters with integrity.
Prior to joining Tune, Entrekin, and White P.C., Chris began his own successful law firm after working for many years in the Court system, first at the Davidson County Clerk & Master, and then as clerk for Chancellor Carol McCoy and Judge Joe P. Binkley, Jr.
Chris is a Tennessee native.  When not working, Chris enjoys golf, softball, and spending time with his wife and daughters.